Thanks to our cutting-edge machines, professional designers, and technical experts, HDPK is able to provide a wide range of customization options for our kraft paper bags, including bag sizes, styles, handle types, curved edges, and the ability to die cut anyplace on the paper bag.
Let us help you create a one-of-a-kind retail packaging to elevate customer experience and strengthen your brand awareness today!
World-Class Sustainable, Recyclable, Recycled, Compostable, Eco-friendly Packaging Solution
For commercial buyers, HDPK offers a wide variety of customization options and project assistance with factory-direct pricing and brilliant customer support you'll enjoy.
Free Design Consultations
Whether you're a beginner to custom packaging or a professional, our packaging experts are here to guide through the process. We even offer free professional design services to help you create a custom packaging product you'll proud of.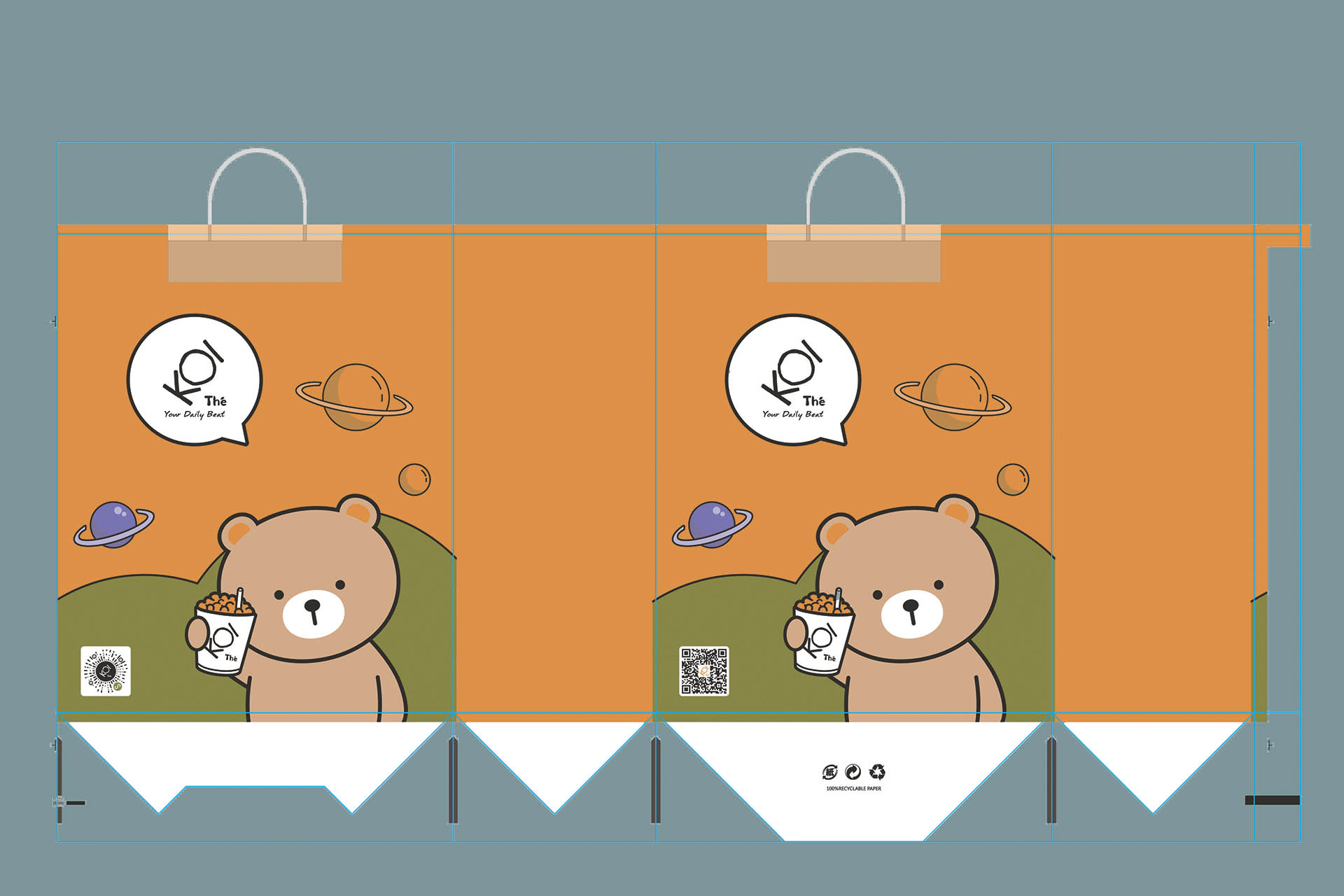 Elevate Your Customer Experience With Custom Paper Bag
Custom kraft paper bags are an excellent and enduring way to make consumers feel unique about their purchases and promote your brand name at the same time! These simple, classy paper shopping bags present your attractive logo (in a range of colors and surfaces) and feature a variety of handles. Whether you want a matte or gloss finishes on your paper gift bags, we can help you achieve that! Some choose brown or white Kraft paper bags customized with their own logo design and slogan. We provide a great variety of paper bag sizes, too, from those small ones designed for fashion jewelry to large shopping bags produced to hold a range of larger purchases. Custom-made paper Eurototes are famous for boutique and specialty shops. If you need assistance with your artwork, simply contact us, and we can boost your existing logo design or design you a brand-new one at no additional charge. Advertising paper bags are eco-friendly and environment-friendly. However, they have numerous usages that most of your clients will simply reuse them over and over, all the while promoting your company brand! When you are trying to find the best factory to custom paper shopping bags, look no more than HDPK!
Custom Kraft shopping bags
Kraft paper bags are a flexible bag alternative, with uses varying from shopping, retail retailing, and gift bags. When purchasing paper bags, wholesale prices and quantities guarantee that your business will have enough long-lasting Kraft bags to package your products year-round. The smooth and natural look of a Kraft shopper makes it easy to add an individual touch with custom full-color sticker labels, vibrant tissue paper, or a stylish gift tag.
Kraft paper bags features and factors to consider
Customize your Kraft paper bag by choosing between a range of styles, shapes, and sizes. You can select from Kraft bags with handles or those without handles. Kraft bags can likewise be printed with a unique design or pattern, or you can pick a variety of various colored Kraft shoppers for each season. When it comes to sizes, you have a variety of alternatives. Our large paper bags are perfect for handling gift boxes or large items with ease, while the small paper gift bags are a terrific option for small gifts or items such as precious jewelry boxes.
Why select custom printed Kraft bags?
Kraft bags aren't just practical for customers to bring their purchases, the paper bags also fold flat for a simple store in your business until they are needed. Customizing your kraft paper bags or gift bags allows your business to exceed convenience too. These bags can be easily customized to match the changing seasons or for different uses such as sales or occasions. Kraft shopping bags can work as a taking a trip billboard as customers leave the store with their purchases. For extra promotion, include your own logo design to the bag with hot stamping or labels. Likewise, you can dress up the appearance of your bag with strong color bag paper or pattern bags paper and ribbon. With these brown kraft paper bag choices, you can style a bag that complements your brand quickly.
Reusable custom shopping bags
Stand out from competitors, enhance customer experience, and promote your brand with custom reusable paper shopping bags! Order reusable bags wholesale for an affordable, premium marketing tool that regularly advises customers about your business. Premium reusable grocery bags are eco-friendly choices that design to elevate the shopping experience: Imprint your custom logo and beautify your reusable bags with custom tags or durable tissue paper to add style and branding to the checkout procedure!
Reusable grocery and shopping bag features and considerations
Boost brand name recognition with a custom logo imprint on reusable paper shopping bags in your choice of color– blue, red, green, brown, black, white, orange, yellow, purple, pink, and silver. Opt for a matte or metallic finish that makes sure to turn heads! Perfect for transporting food and premium boxes with food-grade tissue paper, reusable grocery bags consist of easy-carry handles and are available in numerous shapes and sizes ranging from 3″ full to 12″ broad and over.
Custom merchandise bags
Merchandise kraft paper bags produce an easy and hassle-free way for customers to take home their purchases from your business. By using quality custom merchandise kraft paper bags, you can enhance a customer's perception of your brand name while assisting your business stand out from the competition. Use your merchandise paper gift bags for packaging up several customer purchases, or use them as appealing gift packaging for products like jewelry boxes or gourmet food boxes that you can finish with ribbon or a custom gift tag.
Why pick wholesale reusable shopping bags?
Reusable shopping bags are an eco-friendly option to plastic bags, so they make exceptional retail brown bags your customers can utilize time and again. And, with your logo imprint, custom reusable grocery bags make sure everyone knows where their loved one's members choose to shop– they'll market your business all over they go! Use these shopping bags for point-of-sale checkout, as grocery bags in your deli or carryout, or as marketing free gifts at trade convention, conferences, and other events– they make great totes for clothing and materials, too. Toss in a gift card to encourage future purchases and ensure customers keep returning. Best of all, you can save money when you purchase reusable paper shopping bags with factory-direct pricing from HDPK!
Contact Us
Please feel free to call our client service experts for design help. We have an in-house design team and technical specialists to address all your concerns about custom paper shopping bags and assist you through each phase of your packaging project.
Chinese Factory Direct Quote
Save 15%-20% when you order paper packaging products from us!